Where travel agents earn, learn and save!
News /

"Unique" is better than "best"! Cuba thanks travel partners for making it once again the main destination for Canadian travellers
Photo: Nieves Ricardo (Cuba Tourist Board), Sabdiel Lafargue, consul in Toronto, John Marraffino, FOXX Advertising, Marisabel Gonzalez, President Hola Sun Holidays, Isayli Cabanas, Commercial Counsellor Cuban Embassy, Rafael Villanueva, Comercial director Blue Diamond Resorts Cuba, Lessner Gomez (Cuba Tourist Board), Karen Puebla (Cuba Tourist Board), Mike Cecere, FOXX Advertising
250 travel partners including tour operators, hotel chain representatives, the media and, of course, Travel Agents attended the Cuba Tourist Board appreciation event in downtown Toronto last week.
"Without your support, it wouldn't be possible for Cuba to be once again the main destination in the Caribbean," says Lessner Gomez, Director of the Cuba Tourist Board. The total arrivals to Cuba, this year until October 2023, reached 1,973,083 tourists from around the world, while the total number of Canadians was 748,976.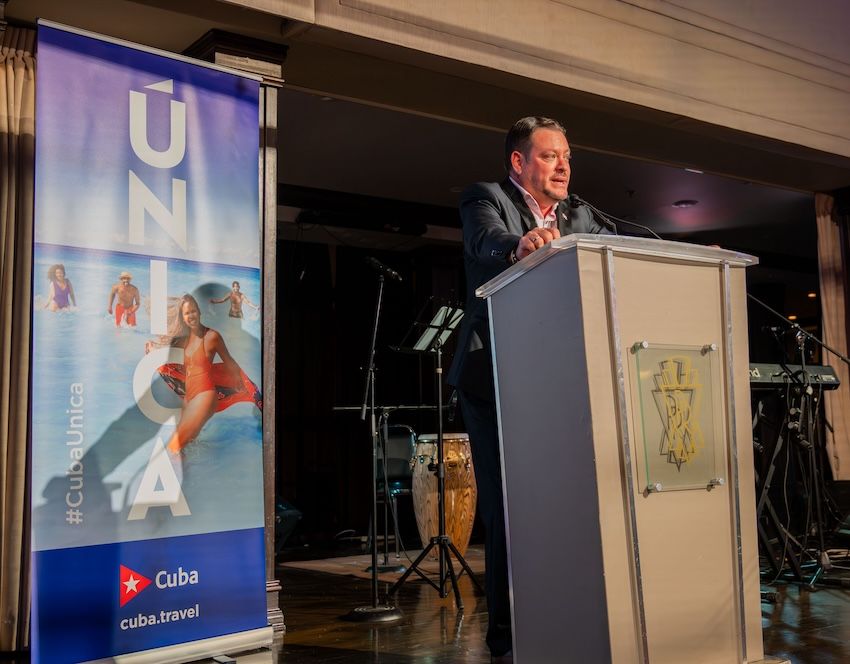 The goal for the Canadian market this current year is close to 1 million visitors which means almost a 200% increase over last year.
The air capacity for this winter season has seen a 12% growth with more than 5 thousand flights to Cuba from 21 Canadian gateways.
New Hotel Openings
Cuba has been quite busy these last few years with the construction of the new hotels and the refurbishment of the older properties. The new openings include Gran Aston Cayo Paredon and Vila Gale in Cayo Paredon; Marina Plaza and Spa Hotel (not all-inclusive) in Cayo Cruz; The One Gallery Hotel in Cayo Santa Maria; and Gran Aston Varadero Hotel in Varadero.
Sol Turquesa Beach Hotel in Holguin saw major renovations and is under new management by Meliá Hotels. In Havana, the Sevilla Hotel was completely upgraded and is now managed by Meliá as well.
Blue Diamond Resorts added a new property to its portfolio in the Jibacoa area, the Starfish Jibacoa (former Villa Tropico).
Also, the most recent opening is the Meliá Peninsula Trinidad Hotel, an all-inclusive property located on the Ancon Beach.
WiFi
The WiFi is available and FREE at all hotels and airports in Cuba. Now the main goal is to improve the quality of the connectivity by setting up a fibre optic service (the project is anticipated to be completed by the end of 2024) and making internet access available on catamaran tours, and tourist buses.
Supplies
One of the biggest challenges for Cuba has been the stabilization of the supplies. To improve this, Cuba has increased the cargo from Canada and expanded import deals directly by the hotel chains.
Events
The number of annual events in Cuba is growing and some are getting very popular like the Havana Jazz Festival, Santiago de Cuba Fire Festival, and the Havana Cigar Festival.
The largest tourism fair in Cuba, FITCuba, has recently been scheduled for May 2024 and will be held in Cayo Coco.
Travel Agent Specials
To help Travel Agents learn more about Cuba's offerings, the Cuba Tourist Board will be organizing more FAM trip opportunities in 2024. Also, Travel Agents can apply for a Cuba Travel Specialist program which is approved and supported by the Ministry of Tourism!
The new advertising campaign CUBA UNICA is running across Canada and the message is clear: "We prefer to be "Unique", be different and stand out from the crowd, Cuba is UNICA!" says Nieves Ricardo.
More About Cuba
Discover Cuba's newest destinations with Hola Sun Holidays
Gaviota Travel Mart 2023 Takeaways: Cuba is open and fully operational!
By Kateryna Ivchenko