Where travel agents earn, learn and save!
News /

Road trips and Caribbean escapes top Tripadvisor's Winter Travel trends
Tripadvisor's Winter Travel Index indicates 58% of Americans plan to travel this season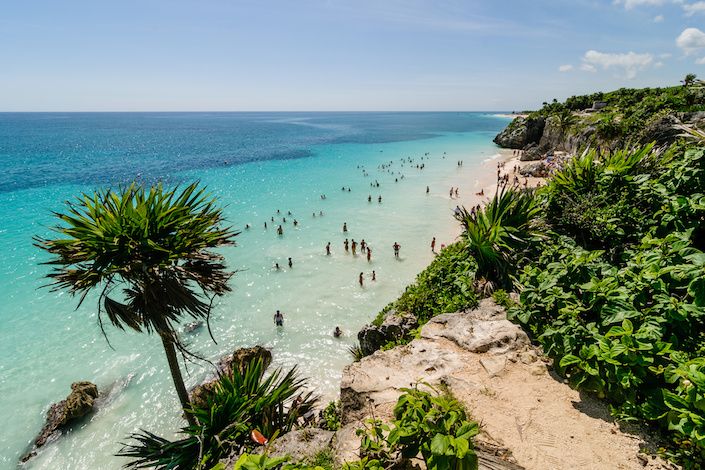 Tripadvisor's Winter Travel Index, reveals that 58% of Americans in a recent survey will travel this season. Though the findings are on par with Tripadvisor's data last winter (59%), this figure rises to 63% of Millennial and 68% of GenZ travelers who say they will travel this season.
The vast majority (91%) are planning travel for specific seasonal reasons, including winter festivals (36%), winter sports and activities (30%), school breaks (30%), and national, cultural or religious holidays (43%).
Cost Cutting Dwindles
Cost remains the most important determinant for Americans planning a trip, and prices influence travel dates for 40%; however, cost is not hindering travel. In fact, 93% of Americans planning to travel this winter will spend the same or more on travel than they did last year. Furthermore, 57% will travel as planned this season regardless of economic factors.
Of the 34% reporting they'll alter their travel plans due to economic factors, not all face negative impacts. Respondents cite lower inflation and gas prices, strength of currency and positive change in financial circumstances as reasons they'll elevate their winter travel plans.
As such, Tripadvisor's Winter Travel Index indicates an uptick in travel due to positive economic factors: one-quarter (25%) will take more trips and 30% will take longer trips.
While most Americans will take 1-2 trips (76%) this winter, nearly one-quarter (24%) will plan three or more – well above the average of all other markets surveyed* (14%); once again, this finding underscores how Americans are comfortable traveling and spending money. Notably, GenZ is most likely to take more trips (3-5).
International Travel Continues Growth
While domestic travel reigns supreme, with 68% of American travelers planning to stay stateside this winter, one-third (32%) of Americans intend to travel abroad, including 14% planning an international trip and 19% traveling both domestically and internationally. This figure maintains steady growth over the past several seasons, commensurate with reopened borders and decreased financial strain.
Additionally, traveling 4-6 hours from home is the most popular (39%), but more than one-third (36%) of avid travelers will venture over seven hours, illustrating that people are willing to devote time to get to their winter vacation.
Consistent with this fall, 71% of U.S. travelers will visit a destination they have been to before (this is most common for Boomers). Still, looking to broaden their horizons, 29% will travel somewhere new and 59% will book activities to enhance their trips.
Caribbean & Asian Destinations Trending
The top destinations Americans will visit this winter, based on Tripadvisor's first-party data, include the quintessentially popular New York City, Orlando and Las Vegas, respectively. Internationally, Mexico and the Caribbean make up all the top 10 most popular winter destinations for Americans, as sunny beach spots beat out bustling European cities as colder weather arises. However, lesser-known destinations from the Caribbean are alongside Asian cities on the rise this winter, seeing the greatest year-over-year growth in interest.
Trending International Destinations
Road Trips on a Roll
Not just a pandemic pastime, road trips regain popularity as the top trip type (25%) for Americans this winter, followed by cultural sightseeing (16%) and nature (14%). This differs from all other countries surveyed where culture is the No. 1 trip type.
While 41% of Americans will fly to their destination, 38% will drive. U.S. respondents are also more likely to stay with friends and family on their trip. These preferences paint a desire for more control and a shift away from unpredictable air travel.
Best Time to Travel
December 25-31 will be the most popular travel week, based on hotel searches on Tripadvisor, unsurprisingly as it coincides with school vacations. December 26 is the No. 1 hotel check-in day, as many opt to enjoy Christmas as home before jetting off on vacation. Travelers looking to avoid congestion should steer clear of this time as possible.
For those still planning where and when to go, below are the most affordable weeks** to visit popular destinations during the winter period:
New York City: January 29-February 4
Orlando: December 11-17
Las Vegas: December 18-24
Cancun: December 4-10
Punta Cana: December 11-17
Cabo San Lucas: December 4-10
Action & Adventure
The most popular experiences Americans surveyed have booked so far include outdoor activities (33%); food and wine tours (30%) and shopping (29%). Again, Americans differ from their international counterparts, who rank cultural tours/historical sites as the most popular travel experiences.
Though they may skew away from culture, Americans are prioritizing adventure this winter, as 36% will take part in outdoor activities on their trip.
While making memories and relaxing/rejuvenating represent the top purposes of winter trips, nearly one-third (30%) of Americans cite their main goal as having an adventure, up from the 23% global average. Notably, while every generation prioritizes relaxation, younger respondents (Millennials and GenZ) are more likely to seek adventure and explore something new than older generations (Boomers and GenX).
Across the board, Americans are packing their trips with activities: 32% have/will book 1-2 activities, 56% will book 3-5 (above global average of 44%), and 12% will book 6-8 (above global average of 7%). These will most frequently be a mix of free and paid activities.
Many of the most-booked experiences to-date on Tripadvisor speak to travelers' thirst for adventure:
A Look Ahead
The travel landscape in 2024 looks promising: over three-quarters of Americans surveyed (77%) plan to travel next year. The vast majority of those (94%) will travel the same amount or more than they did in 2023.
Initial Tripadvisor research results reveal June and July will be the most popular travel months for Americans, unsurprisingly as summer vacations commence. March and May are slated to be the next major travel times.
*Markets surveyed include Australia, Italy, Japan, Singapore, U.K. & U.S.
**Most affordable time to visit is based on the lowest price week of the average hotels that Americans are searching on Tripadvisor between August 1 - September 30, 2023, for travel between December 1, 2023 - February 29, 2024, in a sample of the most popular winter travel destinations.
The data cited in this release was gathered and analyzed from two key sources:
A Tripadvisor Consumer Sentiment Survey, based on data drawn from an online survey of over 2,400 consumers, in partnership with Qualtrics, conducted between October 9-13, 2023 across six countries, including Australia, Italy, Japan, Singapore, U.K. & U.S.

Site behavioral data sourced from first party traffic data on the Tripadvisor platform for searches made by travelers in the U.S., U.K. and Japan between August 1 - September 30, 2023 for travel between December 1, 2023 - February 29, 2024.