Where travel agents earn, learn and save!
News /

Aruba makes steady progress in launching new digital travel credential
The Aruba Happy One Pass (AHOP) program combines an innovative automatic border control gate system and privacy-preserving biometric technology to create a seamless travel experience for visitors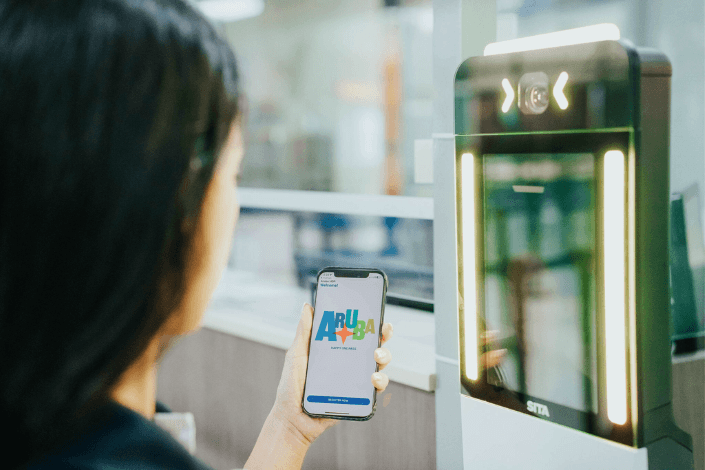 Photo: Aruba Tourism Authority
The Aruba Tourism Authority (ATA), in partnership with the Office of Minister of Tourism and Public Health for Aruba, has announced the successful demo of the Aruba Happy One Pass (AHOP) program and unveiled plans for the upcoming installation of the SITA Automatic Border Control Gates at Queen Beatrix International Airport.
A first of its kind, AHOP is a digital travel credential system that allows visitors to hold their data on their personal mobile devices and share it directly with immigration officials to create a hassle-free travel experience, centered around privacy. Now, travelers can complete pre-boarding verification and smoothly cross border checkpoints without providing their physical passports. AHOP is slated to launch for all travelers coming to Aruba beginning March 2024.
Through AHOP, travelers can turn their physical passports into verifiable digital credentials on their mobile devices, and through additional biometric checks at immigration, they will be matched to their passport images via facial recognition. This process streamlines border control's flow, cutting wait times and getting travelers to their destinations quicker, while also reducing risk of error, identity theft or fraud.
As an advocate for digital innovation in Aruba, Minister of Tourism and Public Health, Dangui Oduber envisions AHOP as a launching pad for digital transformation across the island's tourist-focused economy and hopes to leverage it in different sectors including hospitality, events and services. Through AHOP's technology, Aruba is poised to offer a level of service that will propel it to the forefront of the global tourism industry.
Designed through 'passenger-first' approach, AHOP allows passengers to hold their own data and biometrics, eliminating the need for a third-party data storage – a true milestone in the industry. This feature ensures compliance with data protection laws and reassures visitors their personal information is protected and under their control.
AHOP is built with digital travel credential (DTC) technology previously developed by the Aruba Tourism Authority (ATA), Immigration Aruba (the Aruba Immigration), SITA, and Indicio to manage traveler health data around COVID-19 testing and vaccination. The design of AHOP was based on the principles set out in the International Air Transport Association's One ID and the International Civil Aviation Organization's standards for a digital travel credential. It was built on open-source technologies from the Hyperledger Foundation for maximum interoperability.